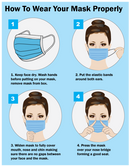 Description
FDA-APPROVED & MADE IN THE USA. 


"PLUS FREE SHIPPING"



FDA-Approved for Emergency Use Authorization (EUA)
Manufactured in Farmington Hills, MI in our ISO 9001 certified cleanroom. 

These FDA-approved disposable face masks feature a pleated expandable design for a comfortable and lightweight fit.
Three Shielding Layers: Made with three layers of soft non-woven polypropylene to prevent your breathing in or out of respiratory droplets.

Breathe Easy: Breathable non-woven fabric makes breathing easier and you'll almost forget you are wearing a mask.
Confident Fit: The double wire nose bridge adjusts to your face and the elastic ear loops fit very comfortably.
Skin-Friendly: Made of soft, non-woven fabric that is odorless and soft to the touch avoiding skin irritation.

Information from the Center for Disease Control (CDC) to help you stay safe.
How to Protect Yourself & Others
Use of Masks to Help Slow the Spread of COVID-19
How to Put on and Remove a Face Mask
"ORDER NOW AND GET FREE SHIPPING"