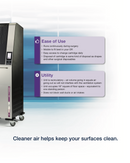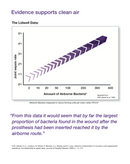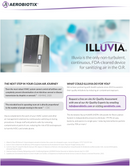 Description
The Aerobiotix Illuvia HUARS (HEPA-Ultraviolet Air Recirculation System) is independently proven to eliminate over 99.9% of viruses, bacteria and spores in a single pass, reducing total airborne particulate count by 70% or more.
The Illuvia system provides measurable data that enables you to proactively manage and control the amount of airborne contamination in any room, and is designed specifically for surgical suites and operating rooms.
These specific units are the first generation of Illuvia machines, which have been traded in for upgrades to the second generation.  All machines are tested for functionality, thoroughly cleaned and disinfected, have new filters installed, and are warrantied for 1 year.