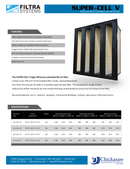 Description
Our 24x24x12 Super-Cell V MERV 14/15 Rigid-Cell Air Filter with a single header is an exceptional value for high-performance air filtration.
This air filter is designed to provide superior filtration performance at a fraction of the cost of other high-performance air filters on the market.
Plus, with its durable construction and easy maintenance, this air filter is a cost-effective solution that will save you money in the long run.
Compares to and replaces AAF VariCel VXL, Airguard Vari-Plus, Purolator Serva-Cell VA, Glasfloss Puracell VP, Flanders Superflow V, Tri-Dim Predator or Ultra XV.
90-95% Rated MERV 14/15

Up to 99%+ Efficiency at 0.3 micron
Mini-Pleated Waterproof Filter Media
High-Impact Plastic Frame
Single Header Construction
Actual Dimensions 23.38" x 23.38" x 11.5"
Filtra-Systems PN# 19601201
Made in the USA
Key Benefits:
Exceptional value for high-performance air filtration
Superior filtration performance at a fraction of the cost
Easy and secure installation with a plastic frame
No air bypass or filter blowout
Captures even the smallest particles for clean and healthy air
Durable and long-lasting construction for hassle-free use
*Manufacturer trade names are used for reference only.
* Note: Images are intended as representations of the specific product but actual items may vary somewhat in size, shape and/or color.