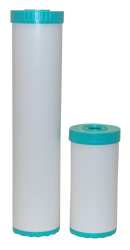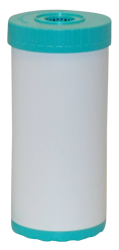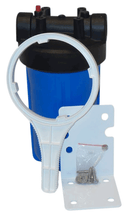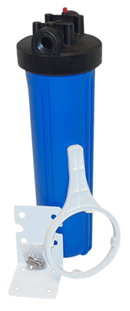 Description
| | |
| --- | --- |
| Brand Name | Filtra Systems - Single Stage Filtration System |
| Color | Blue |
| Filter | OPTIONAL Refillable Canister |
| Installation Type | Plumbing, 1" Female North American Threaded NPT |
| Materials of Construction  | Polypropylene, HFPP, EPDM Rubber |
| Maximum Pressure | 100 PSI |
| Mounting Type | Bolted (included) |
These premium Big Blue whole house filter housings offers the versatility to meet all of your basic water filtration needs.
Constructed of durable reinforced polypropylene, HBB-10 has outstanding chemical resistance and is ideal for many home, commercial and industrial applications.
While compact in size, it still delivers high flow rates and excellent contaminants reduction for light-duty purification applications. These housings are compatible with a wide variety of 4-1/2 in. Dia x 10 or 20 in. length specialty filters.
Durable, premium quality 10 or 20 in. whole house filter housing
Reinforced polypropylene cap and sump for strength and chemical resistance
Large capacity and high flow rate in a compact design
Compatible with 4-1/2 in. Dia industry-standard 10 or 20 in. filter cartridges
1 FPT inlet and outlet
No backwashing required
Housing, mounting bracket and hardware only,

filter cartridges are sold separately
Filters are easy to remove thanks to Pressure release buttons. The black cap has a 1" female National Pipe Thread Taper (NPT) threaded input and output connections, an O-ring to ensure a watertight seal.